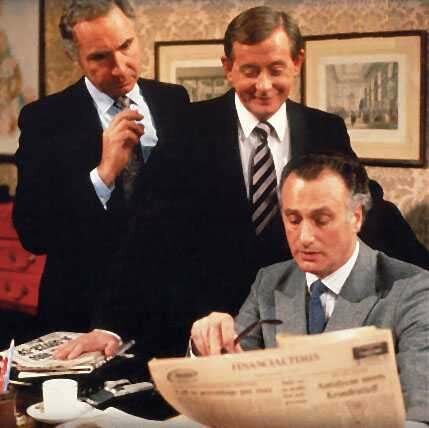 Yes Minister and Yes Prime Minister is a British comedy series about the wheeling and dealing of political life. Although the series is set within the British political scene, it deals with political games and clashes between politicians and the civil service that could be found almost everywhere in the world.
Our sponsor: SilenceWiki.com
The Yes Minister (YM) series started airing in 1980 on BBC 2. It consisted of three series, each with seven episodes. Each episode is about 30 minutes long. The story focuses around three main characters: James (or Jim) Hacker MP, Sir Humphrey Appleby and Bernard Woolley. It starts off with the political party of Jim Hacker that has won the elections and forms a new government. Jim Hacker gets appointed Minister for the Department of Administrative Affairs. At his department he has to work with his Permanent Secretary Sir Humphrey Appleby. The interests of both are of course very different. Jim Hacker has to make sure he remains popular (for votes) and that he carries out cabinet's policies (for the PM). Sir Humphrey however is interested in securing and possibly extending the position of his department in terms of staffing and budget. These interests clash of course on numerous occasions. On some occasions however their interests coincide and they have to work together. The character of Bernard Woolley is positioned between the other two. Bernard Woolley is Jim Hacker's Principal Private Secretary. Although he is most of the time sympathetic to Jim Hacker's plans, he is also a civil servant and has loyalties to the civil service and Sir Humphrey.
In 1984, almost two years after the last episode, the BBC aired a one-hour long Christmas episode of Yes Minister. In this episode Sir Humphrey moves up the civil service hierarchy to become Cabinet Secretary.
Jim Hacker enters in a fight for party leadership and finally achieves what he always dreamt of: Prime Minister of Great Britain.
In 1986 the BBC started a new series: Yes Prime Minister (YPM). It consisted of two series each with eight episodes. The characters are still the same but the ambitions and surrounding have changed a bit. Jim Hacker as Prime Minister is still obsessed with popularity among the voters, but he now also wants to have his name written in the history books as a great statesman. Sir Humphrey as Cabinet Secretary now has a broader responsibility to maintain the power and position of the whole civil service, as well as his own. He now has a powerful adversary in the form of Sir Frank Gordon, Permanent Secretary of the Treasury. Bernard Woolley's is still the Principal Private Secretary to Jim Hacker and he remains loyal to both sides.
The YM and YPM series are admired for showing the reality of political life combined with British humor. Former British Prime Minister Margaret Thatcher was very impressed with the series and once stated: "Its closely observed portrayal of what goes on in the corridors of power has given me hours of pure joy".