NEWS:
Yes Prime Minister season 2 was released on 9 May 2005. This release is for region 2 (Europe, Middle East). The region 1 (USA) version has already been released last year. This makes the DVD collection of Yes (Prime) Minister complete! You can order this final season from various online shop found below.
---
Problems playing the Yes Minister Series 2 DVD (17 March 2003)
FYI: Coffee Maker with Grinder.
We have received some reports of problems playing the Yes Minister Series 2 DVD on region free DVD-players. It looks like Warner Brothers (who distributes this DVD) may have added Regional Coding Enhancement (RCE) to this disc. RCE should prevent playback of regional coded discs on region free DVD-players. Currently the only known solutions we know of is to play the disc on a regional coded DVD-player or use a region free DVD-player that is RCE compatible. Please let us know if you have similar or other experiences or a solution to this problem. The Yes Minister Series 1 disc does not seem to have this technology and should work fine on region free DVD-players.
Update 22 Sept 2004: there seems to be no problem in playing the Yes Prime Minister disc box (region 1) on region free DVD-players.
---

As a service to all the Yes (Prime) Minister fans around the world that are desperately seeking for that missing episode, we have put together an overview of how to acquire these videos. First of all, Yes (Prime) Minister videos are not usually in stock at your local video store. As a first step however, I would recommend to check with your local video store, since most of the times they can order these for you. Some tapes will be difficult to get since the Yes Minister series has not been completely released on video. Series 3 episodes 4-7 of Yes Minister are very difficult to come by. There should be no problem in getting the Yes Prime Minister series, since it has been fully released on video.


If your local video store is not able to help you, you can order the video tapes online at the various websites that sell videos. Important to remember is that there are three different television systems across the world and that these are incompatible with each other. In the Americas and Asia there is the NTSC system, Western Europe (except France) and Australia has the PAL system, and France and Eastern Europe have the SECAM system. Usually, an NTSC video tape cannot be viewed in a PAL video cassette recorder, unless you have a state-of-the-art TV and VCR that can handle all television systems. So it is important that you buy a tape with the correct television system, otherwise the tape will be worthless to you. The below listing of online video stores is split up between whether these stores offer NTSC-tapes or PAL-tapes. None of the online video stores checked offered SECAM-tapes.

Buying DVD's: every disc has a regional code that should prevent people from - for instance - Europe to buy and play DVD's for the US market. The world has been split up into six regions: region 1 is the US and Canada; region 2 is Europe, Middle East, South Africa and Japan; region 3 is South East Asia; region 4 Australia, New Zealand, South and Central America; region 5 is Russia, India and Africa; and region 6 is China. If you don't have a region free DVD player, you can only play discs for your region. This is important to remember when buying DVD's from overseas.
Please do not write to us asking when new releases will happen or how to get certain episodes. Any information on these topics will be posted on this page as soon as it is available.
Region 1/NTSC-format Online DVD/Video Stores


Region 2/PAL-format Online DVD/Video Stores

Region
4

/PAL-format Online DVD/Video Stores

---
Also check out these books: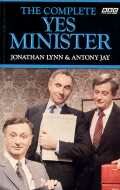 "The Complete Yes Minister -
The Diaries of a Cabinet Minister by the Right Hon. James Hacker MP"
Edited by Jonathan Lynn and Antony Jay
BBC Books
ISBN 0-563-20665-9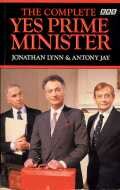 "The Complete Yes Prime Minister -
The Diaries of the Right Hon. James Hacker MP"
Edited by Jonathan Lynn and Antony Jay
BBC Books
ISBN 0-563-20773-6