YM 1.1 - Open Government
First airtime BBC: 25 February 1980
Length: 30 minutes
Cast
Crew
Jim Hacker MP
Paul Eddington
Studio lighting
Duncan Brown
Sir Humphrey Appleby
Nigel Hawthorne
Costume designer
Dorothea Wallace
Bernard Woolley
Derek Fowlds
Make-up artist
Kim Burns
Sir Arnold Robinson
John Nettleton
Cameraman
Paul Wheeler
Vic Gould (Chief Whip)
Edward Jewesbury
Film Editor
Michael Casey
Annie Hacker
Diana Hoddinott
Vision mixer
Joan Duncan
Frank Weisel
Neil Fitzwiliam
Film Sound
Ron Blight
Announcer Jim's victory
Norman Mitchell
Studio sound
Alan Machin
Lloyd Pritchard
David Moran
Music
Ronnie Hazlehurst
BBC PM producer
Fraser Kerr
Title sequence
Gerald Scarfe
Producer's assistant
Diane Taylor
Production assistant
Brian Jones
Designer
Jim Clay
Producer
Stuart Allen
Writers
Antony Jay & Jonathan Lynn
Plot: James George Hacker wins the election in his constituency Birmingham East and is whispered to become a Minister in the new government. The day after the election he sits nervously by the phone waiting for the Prime Minister to give him a call, but every time the phone rings it is someone else. Then finally he gets the call he has been waiting for: the Prime Minister wants him to become Minister at the Department for Administrative Affairs.
After his appointment he heads of for his new Department where he meets his Principal Private Secretary Bernard Woolley and his Permanent Secretary Sir Humphrey Appleby. Jim Hacker immediately wants to get started with fulfilling his Party's promise of open government. Although he expected a lot of resistance from the Civil Service, Sir Humphrey has already prepared a white paper on the reform of the Civil Service,
and proposes to call the paper Open Government. Jim Hacker is impressed!
He demands that his political advisor Frank Weisel will get an office near his, and that Frank will get all the paperwork that he gets. The next week Sir Humphrey has a meeting with Sir Arnold Robinson (the Cabinet Secretary) at a club for senior civil servants. There he learns that the PM is anxious to close a defense trade agreement with the United States, and that nothing should be done to rock the Anglo-American boat. Sir Humphrey immediately phones one of his employees to put an invoice for American computer equipment in one of the red boxes.
When Frank Weisel and Jim Hacker find this invoice they are outraged that the order was not placed with a British manufacturer. They want this order to be canceled, but Sir Humphrey points out this is beyond their power. Under the open government principle Jim Hacker therefore wants to publish this order and make a speech blaming the previous government and the criminal nature of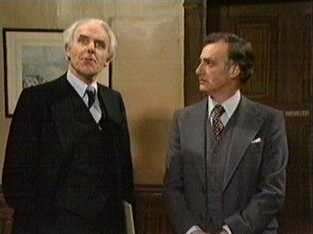 American salesmen. Sir Humphrey makes sure this speech is circulated to all relevant departments and is released to the press.
Then all hell breaks loose at the PM's office when they see Jim Hacker's speech. He is summoned to come to the PM's office, where he get a talking-to by the Chief Whip. Sir Arnold is appalled by his indiscretion and asks Sir Humphrey what he was thinking of. Sir Humphrey claims he and his Minister believe in open government, but Sir Arnold observes that this is the closed season for open government.
To save his position Jim Hacker asks whether there is no way to hush the whole thing up. Bernard Woolley rushes in and tells the Minister that the speech has not been released to the press because it was not cleared. Sir Humphrey explains that clearance was a procedure that dated from before the era of open government, and he "begs" his Minister to forgive him. Jim Hacker is very willing to forgive this since everyone makes mistakes. His position as Minister is saved.
Rating (0-10): 7
Top 5 Quotes:
YM 1.2 - The Official Visit
First airtime BBC: 3 March 1980
Length: 30 minutes
Cast
Crew
Jim Hacker MP
Paul Eddington
Assistant floor manager
Jackie Foot
Sir Humphrey Appleby
Nigel Hawthorne
Studio lighting
Peter Winn
Bernard Woolley
Derek Fowlds
Costume designer
Jackie Southern
Martin (Foreign Secretary)
Tenniel Evans
Make-up artist
Dorka Nieradzik
Jumbo
John Savident
Film Editor
Ron Bowman
President Selim Mohammed
Thomas Baptiste
Vision mixer
Joan Duncan
BBC News reader
Robert Dougall
Studio sound
Richard Chamberlain
Bill Pritchard
Antony Carrick
Music
Ronnie Hazlehurst
Title sequence
Gerald Scarfe
Producer's assistant
Judy Loe
Production assistant
Brian Jones
Design
Tim Gleeson
Producer
Sydney Lotterby
Writers
Antony Jay & Jonathan Lynn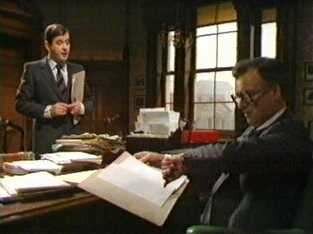 Plot: Sir Humphrey presents his Minister Jim Hacker a document regarding the upcoming State visit of the President of Buranda. The DAA needs to solve some administrative problems in the light of this visit, since the Queen will be in Scotland at that time so arrangements must be made for her to travel to London. The visit is going to be highly important because Buranda will become an oil-rich country in the near future and will need oil rig equipment, preferably bought from Britain.
Jim Hacker has a brilliant plan to solve this problem; the Queen will not have to travel if the visit is held in Scotland. And another important reason for him is that there are three Scottish by-elections coming up, all in marginal constituencies, which can be held straight after the visit. Sir Humphrey is not pleased about this plan which he views as a vote-grubbing exercise. Also when the visit is going to be held in Scotland, Sir Humphrey wouldn't be able to attend (probably only the Permanent Secretary of the Scottish Office will be invited). Jim Hacker however is persistent and has no problem persuading this Cabinet colleagues.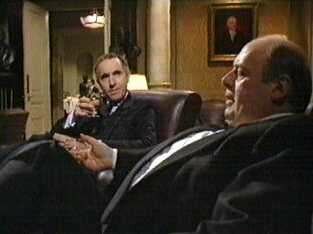 Sir Frederick (Permanent Secretary of the Foreign Office) however informs Sir Humphrey that the visit probably will never happen because of a rumored communist coup d'état in Buranda. The next night Jim Hacker learns from the BBC news that this coup d'état has actually taken place, and that the new President Selim Mohammed has taken office.
Jim Hacker confers with the Foreign Secretary and they decide to reissue the invitation for the visit to the new President. Sir Humphrey is appalled by this since they have no information about the intentions and plans of this new President. He strongly advises his Minister to cancel the visit but Jim Hacker is determined (because of three Scottish by-elections that depend on this visit).
The next week the new President of Buranda arrives in Great Britain. Jim Hacker immediately recognizes this new President as Charlie Umtali, a former fellow student at the London School of Economics.
While traveling to Scotland, Jim Hacker gets an advanced copy of the speech
Charlie is planning to deliver the next day in the presence of the Queen. In that speech he urges the Scots and Irish to fight against English oppression. In a meeting with Sir Humphrey, Sir Frederick, the Foreign Secretary and Bill Pritchard (the Press Officer) they conclude that this advanced copy of the speech was sent as a bargaining point. Everyone agrees that his old friend Jim Hacker must go and talk with Charlie to see how he might be persuaded to change the speech.
When Jim Hacker and Sir Humphrey visit Charlie Umtali the next morning, it turns out that the only way to persuade him to make the appropriate changes is if Britain will lend him 50 million pounds interest free with repayment not to start for 10 years. He will use this loan to buy oil rig equipment in Britain. Sir Humphrey is aghast and views it as blackmail. Jim Hacker however is pleased by this offer that will also provide for more jobs. And Jim Hacker carefully reminds Sir Humphrey that not solving this problem will hurt Sir Humphrey's chances of upcoming honours. Then finally they all agree that this deal is in everyone's interest and Jim Hacker remarks that everyone has his price (or prize?).
Rating (0-10): 8
Top 5 Quotes:
YM 1.3 - The Economy Drive
First airtime BBC: 10 March 1980
Length: 30 minutes
Cast
Crew
Jim Hacker MP
Paul Eddington
Assistant floor manager
Jackie Foot
Sir Humphrey Appleby
Nigel Hawthorne
Studio lighting
Peter Winn
Bernard Woolley
Derek Fowlds
Costume designer
Jackie Southern
Annie Hacker
Diana Hoddinott
Make-up artist
Dorka Nieradzik
Frank Weisel
Neil Fitzwiliam
Film Editor
Ron Bowman
Jumbo
John Savident
Vision mixer
Joan Duncan
Ron Watson
Milton Johns
Studio sound
Richard Chamberlain
Mandy
Patricia Shakesby
Music
Ronnie Hazlehurst
Nelly
Pat Keen
Title sequence
Gerald Scarfe
French ambassador
William Lawford
Producer's assistant
Judy Loe
Reporter
Frank Tregear (?)
Production assistant
Brian Jones
Design
Tim Gleeson
Producer
Sydney Lotterby
Writers
Antony Jay & Jonathan Lynn
Plot: Jim Hacker is being accused of letting the waste of government money continue within the Civil Service. Sir Humphrey tells him there is no way to slim down the Civil Service because of the continuous stream of new laws by the House of Parliament.
Jim Hacker then sends out his political advisor Frank Weisel to search for examples of government waste. Sir Humphrey is dedicated to stop any spending cuts and plans for Operation Hairshirt, an operation that will cause Hacker to feel the effect of spending cuts personally.
When Frank Weisel returns from his research trip and reports his findings, Sir Humphrey presents a rational explanation for every example of waste within the DAA. He then proposes to cut on luxury expenditures, starting with the chauffeur driven
car and private office of Jim Hacker. Although hesitant at first, Jim Hacker enthusiastically embraces the idea as soon as he realizes the press coverage it would generate.
Soon however the unpleasantness of these spending cuts comes home to Jim Hacker as his agenda becomes chaotic, the Civil Service Transport Union goes on strike and he is photographed lying in the gutter. On top of that an article in the Times reports that he has hired an additional 400 people for a time-and-motion study at the DAA.
Now Sir Humphrey comes to his "rescue" by suggesting to axe these vacancies, as well as the vacancies at the Bureaucratic Watchdog Office. As a real spending cut he presents Jim Hacker a plan to reduce the number of tea ladies.
Rating (0-10): 8
Top 5 Quotes: