YPM 1.1 - The Grand Design
First airtime BBC: 9 January 1986
Length: 30 minutes
| | | |
| --- | --- | --- |
| Cast | | Crew |
| Details Will be added soon.. | | Details Will be added soon.. |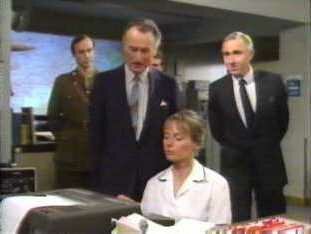 Plot: One of the first things Jim Hacker does after becoming PM is a visit to the Ministry of Defence. There General Howard shows Jim Hacker Britain's nuclear button of 192 warheads. And with the intended purchase of the new Trident nuclear missile, Britain will have even more nuclear striking capability. The General also informs Jim Hacker that the present army forces could hold out against a Russian invasion for 72 hours at most. This means Jim would have only 12 hours to decide whether or not to push the nuclear button.
Jim Hacker is disturbed by this news. Together with Bernard he goes over the strength of the British Defence. Bernard reveals that Britain cannot rely on the other NATO armies, and that when new warheads are delivered they usually do no fit on the top of the existing rockets. Bernard advises Jim to have a talk with the Chief Scientific Adviser about this.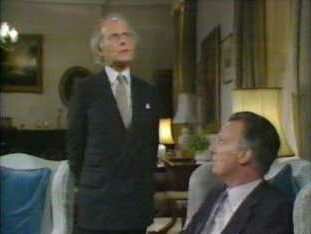 The Chief Scientific Adviser asserts that if the Russians would to try anything, it would be salami tactics (slice by slice). Jim soon realises that he would only push the nuclear button if he were given no choice. But because of the Russians using salami tactics, he will probably never push the nuclear button. Therefore, the Chief Scientific Adviser advises Jim to cancel the purchase of Trident and use the money to build a large conventional army with hi-tech weaponry. Now Jim gets a great idea: if he were to cancel Trident, use the money to build a large conventional army and reintroduce conscription, he would solve Britain's defence, unemployment and education problems in one stroke. He calls it Hacker's Grand Design.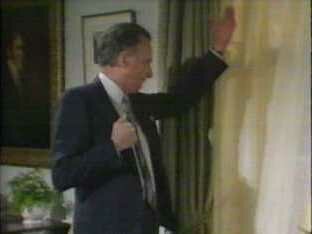 The next day Jim Hacker finds out that there are lunching facilities for all employees at Downing Street, except for him. In a meeting with Sir Humphrey he demands that he gets a government paid cook. Sir Humphrey however points out that no PM was able to pull this off over the last 250 years. Jim is not satisfied and demands Sir Humphrey takes care of solving this issue. Then Jim tells Sir Humphrey of his new plan: Hacker's Grand Design. Sir Humphrey is bewildered about this plan and protests immediately. He tries to convince Jim about the necessity of buying Trident. He even tries the argument that Britain deserves the best and Trident is the best. Jim Hacker however is not convinced.
Later on at a reception Jim Hacker sounds out General Howard about canceling Trident. The General is in favour because Britain does not need it. When the General later learns from Sir Humphrey that canceling Trident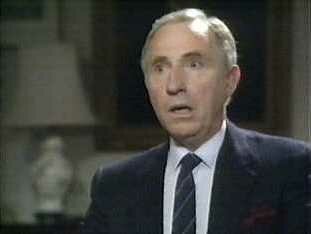 also would mean a reintroduction of conscription, his opinion about canceling Trident changes immediately. Sir Humphrey promises him he will try to slow Jim Hacker down regarding canceling Trident.
At the PM's Office Jim Hacker tells Sir Humphrey about the plans for his upcoming visit to the American President in Washington. When they go over the Cabinet agenda Jim notices that Trident is not on the agenda. Sir Humphrey explains that he thought it would be wiser, since he had a meeting with the American ambassador the day before. The ambassador told Sir Humphrey that if Britain is to cancel Trident, Jim Hacker would not meet with the President but with the Vice-President. Jim Hacker is shocked! His meeting with the American President is vital for PR, but he also wants to make his mark in history. Then Humphrey tells Hacker he has already made his mark. Something none of his predecessors ever accomplished: a government paid cook!
Rating (0-10): 9
Top 5 Quotes
YPM 1.2 - The Ministerial Broadcast
First airtime BBC: 16 January 1986
Length: 30 minutes
| | | |
| --- | --- | --- |
| Cast | | Crew |
| Details Will be added soon.. | | Details Will be added soon.. |
Plot: Jim Hacker has just returned from his visit to the American President in Washington. While the PM is suffering from jet-lag (in other words: sleeping), Bernard Woolley is briefed by Sir Humphrey to stop the PM from announcing his Grand Design (canceling Trident and reintroducing conscription) in his first television broadcast.
Hacker invites his Press Secretary Malcolm Warren to discuss his first television appearance as Prime Minister. They decide the best thing will be Jim Hacker talking into the camera. Since Hacker has little experience with this, Malcolm will set up a practice session. Malcolm wants to know what the broadcast is going to be about. At first, Jim Hacker wants to talk about the usual vague stuff (better tomorrow, gear towards the future, tighten our belts,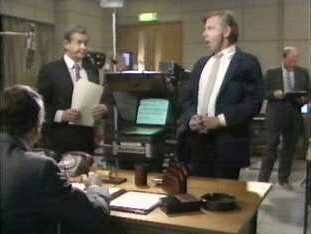 etc.), but then he remembers his Grand Design. Bernard calls Sir Humphrey to inform him of Hacker's plans and Sir Humphrey immediately rushes over to the PM. Sir Humphrey strongly advises Hacker not to mention the Grand Design, since it first has to be discussed in the Overseas Policy and Defence Committee. Jim Hacker however first wants to put his Grand Design before the House and Cabinet and then announce it in his broadcast.
The practice session for the ministerial broadcast turns out to be a learning experience for Jim Hacker. Godfrey, the television producer, gives him all sort of advise on how to sit, what clothes to wear, the way he should talk, etc. At the same time, Bernard is trying to change the text for the broadcast so it does not say anything about canceling Trident. Godfrey mentions that in that case Jim Hacker
should wear a modern suit and the background should be yellow wallpaper, abstract paintings and Stravinsky as opening music. In fact, everything to disguise the fact that the speech contains nothing new. If on the other hand Hacker will talk about the Grand Design then he should wear a dark suit and the reassuring traditional background (oak paneling, leather volumes and 18th century portraits). The opening music would then be Bach.
Bernard goes to see Sir Humphrey and tells him that Hacker is planning to announce his Grand Design in the broadcast. The PM thinks it will be a vote-winner because a Party poll has shown that 64% of the population are in favour of reintroducing conscription. Sir Humphrey advises Bernard to issue another poll to show the majority of the population is against reintroducing conscription. Bernard wonders how this can be done and Sir Humphrey explains it (see Quote 1.). Sir Humphrey will make sure all the Permanent Secretaries will brief their Ministers to oppose the Grand Design.

After the Cabinet meeting where the Grand Design is discussed Jim Hacker is rather puzzled by the outcome. All his Cabinet colleagues who were previously in favour of it, now all seemed against it. The Foreign Secretary was talking about how it could look as appeasing the Soviets. The Defence Secretary was saying that Britain should have the best and Trident is the best. And the Employment Secretary was raving about how conscription will let an army of trained killers loose on the streets.
Sir Humphrey advises Hacker not to announce his Grand Design in the television broadcast. Bernard gives Hacker the results of the latest poll that shows that 73% of the population are against conscription. Hacker now thinks it is best not to refer to the Grand Design in the speech. So it is going to be the very modern suit, yellow wallpaper, abstract paintings....and Stravinsky.
Rating (0-10): 9
Top 5 Quotes
YPM 1.3 - The Smoke Screen
First airtime BBC: 23 January 1986
Length: 30 minutes
| | | |
| --- | --- | --- |
| Cast | | Crew |
| Details Will be added soon.. | | Details Will be added soon.. |
Plot: Sir Humphrey and Sir Frank Gordon (Permanent Secretary to the Treasury) are discussing Hacker's latest plan of a tax cut of 1½ billion pounds. Sir Frank had enormous difficulty convincing the Chancellor of opposing this plan. But in the end he used the convincing argument that the tax cut would mean cuts in health care, which are unpopular with the voters. Sir Humphrey has to rush off to his next urgent appointment: a cricket match.
At the cricket match Sir Humphrey gets awfully drunk in the VIP booth of the British Tobacco Group (BTG). He asks the Chairman whether BTG can sponsor some productions at the Royal Opera House. The Chairman is happy to look into this. Sir Humphrey thinks these BTG chaps are national benefactors.
When Sir Humphrey goes to see Jim Hacker, they discuss the plan of the tax cut. Jim cannot
understand why the Chancellor opposed this plan that would increase the government's popularity with the voters. Sir Humphrey however explains that the Treasury does not believe in giving back money. He argues that the Treasury's power is directly linked to how much money they can get their hands on. In the view of the Treasury it is not the taxpayer's money, it is their money. The only way is to either get the Treasury or the Chancellor to agree to the plan.
Next, Jim Hacker is visited by Dr. Peter Thorn, the Minister for Health. Dr. Thorn presents his plan to eliminate smoking: banning all tobacco sponsorships, advertising and smoking in public places; anti-smoking publicity; and a raise in taxes on cigarettes up to a point where a pack of cigarettes costs about as much as a bottle of whiskey. Jim Hacker is astonished by this idealistic plan. Then he realises that he could use his "support" for Dr. Thorn's plan to force
the Treasury to agree to his tax cut plan. He urges Dr. Thorn to make some speeches on his plan to eliminate smoking.
When Jim Hacker tells Sir Humphrey about his support for Dr. Thorn's plan, Humphrey points to the fact that cigarettes produce 4 billion pounds a year in tax revenue. Jim Hacker points out that smoking related diseases cause 100,000 premature deaths a year, but Sir Humphrey argues that otherwise these people would have cost the government financially even more in pensions and social security.
The Minister for Sports is also very concerned about these anti-smoking plans. Besides from sport sponsorships going down, he is also worried about the effect on his and other marginal constituencies with tobacco workers. He expresses these concerns in a meeting with Jim Hacker.

Sir Humphrey, Sir Frank Gordon and the Permanent Secretary of the Department of Health come up with a strategy to counter the anti-smoking plans. Jim Hacker - as Minister for Administrative Affairs - has enjoyed the hospitality of BTG at many sporting and cultural events. Sir Humphrey will threaten to leak this embarrassing information.
When Sir Humphrey however tries this strategy, Jim Hacker is not impressed. He has enjoyed drinks at the Soviet Embassy and this does not make him a Russian spy, does it? Sir Humphrey had not realised this. Jim than hints at his trouble with the Treasury to agree to his tax cut plan. Now Sir Humphrey understands that the anti-smoking plan will be canceled in exchange for agreement upon the tax cut plan. He decides to check with the Treasury whether this is possible.

In the meanwhile Dr. Thorn informs Jim Hacker about the extensive academical support already received for the anti-smoking plan. When Jim tries to cancel his support for the plan, Dr. Thorn threatens to resign and tell the public Jim blocked his plan. Jim quickly consults Sir Humphrey, who informs him that the Treasury agrees to the tax cut provided the anti-smoking plan is dropped. Sir Humphrey advises Jim to offer Dr. Thorn the job vacancy at the Treasury. Dr. Thorn, although hesitant at first, finally accepts this new job. This leaves a vacancy at the Department for Health. Jim Hacker calls for the Minister of Sports and offers him this job. He happily accepts this job promotion. Everything is now settled and Jim Hacker got his tax cut.
Inconsistency: After promising support for Thorn's anti-smoking plan, the Minister for Sports immediately requests a meeting. However, this Minister cannot know about Hacker's support yet.
Rating (0-10): 8
Top 5 Quotes
YPM 1.4 - The Key
First airtime BBC: 30 January 1986
Length: 30 minutes
| | | |
| --- | --- | --- |
| Cast | | Crew |
| Details Will be added soon.. | | Details Will be added soon.. |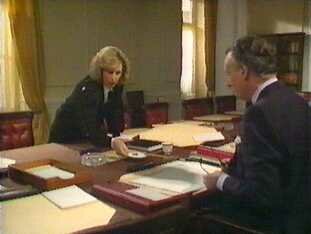 Plot: Dorothy Wainwright - the PM's Political Adviser - complains to Jim about the fact that her office was suddenly turned into a waiting room over the weekend. Jim Hacker confirms this, as he approved an office reorganisation plan submitted by Sir Humphrey. Dorothy explains that the Civil Service is trying to get her out of that office for three years now, because it is in the strategic spot close to the PM. Because of its location (near the gents' loo), Dorothy could keep the former PM fully informed of the plots against him. As soon as Jim realizes this he decides Dorothy must have her old office back.
When Bernard is arranging Dorothy to move back into her old office, he is stopped by Sir Humphrey. He tells Bernard that she was moved out of her office to restrict the amount of advice she could give to the PM. Furthermore, he orders Bernard to see to it that no one, how familiar, can be admitted to Number Ten without a security pass or an appointment.

He goes to see Jim Hacker about Dorothy's office. To Jim he explains that turning Dorothy's office into a waiting room is vital element of the organisation of the PM's office. Finally, Jim Hacker agrees it should be a waiting room.
When he informs Dorothy of his change of heart, she points out that this will make him totally dependent upon the advise given by the Civil Service. He again takes a 'firm' decision to give Dorothy her old office back. Then they turn to the topic of Sir Humphrey. Dorothy points out that Sir Humphrey works in the Cabinet Office, which is a different building, and the PM can restrict access to the PM's Office. Also she suggests that Jim could give Humphrey's job as Head of the Home Civil Service to Sir Frank Gordon. It is already shared between Sir Frank and Sir Humphrey. Jim thinks this is a brilliant plan.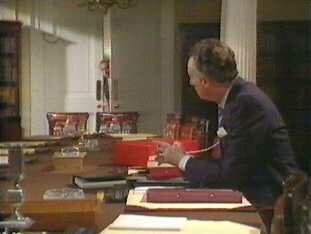 Jim tells Sir Humphrey that Dorothy should have her old office back after all. Sir Humphrey first wants to look into it whether this is feasible. Then Jim turns to the topic of Sir Humphrey having too much on his plate, and that moving his responsibility as Head of the Civil Service to Sir Frank would be a good idea. Sir Humphrey argues that the Treasury already have far too much work (read: power) already. No decision is taken yet.
When Jim goes into a meeting with the Permanent Secretary of the Treasury, Sir Frank Gordon, he asks Bernard to make sure Sir Humphrey doesn't interrupt. Formally, the Cabinet Secretary has to ask permission to come over to Number Ten. Jim instructs Bernard to enforce this formality. During the meeting, in which Sir Frank is in favour of making him the sole Head of the Home Civil Service, Sir Humphrey however drops in. Jim is angry that Bernard didn't prevent this and instructs him to take away Sir Humphrey's key to Number Ten.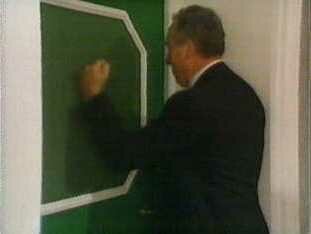 Bernard has Security take away Sir Humphrey's key. When Sir Humphrey phones asking permission to come over to Number Ten, Bernard refuses this. However, Sir Humphrey has a spare key and thus still gets into Number Ten. After this, Bernard orders security to change the locks on the door between the Cabinet Office and Number Ten.
Later on Sir Humphrey phones again to ask permission to come over to Number Ten, and Bernard refuses again. This time Sir Humphrey isn't able to open the door between the Cabinet Office and Number Ten. So he tries to enter by the front door. He is stopped however by a police officer, and because he has no Number Ten pass or an appointment he is not allowed to enter. Now he tries to enter Number Ten through the garden. When he tries to open the door of the Cabinet Room the alarm goes off.
Jim Hacker lets him in. Sir Humphrey protests to the fact he can no longer get into Number Ten without permission. Jim Hacker however feels that the issue of Dorothy's office is far more important. This issue is really the key to the solution. Sir Humphrey now agrees that Dorothy should have her old office back. After this is resolved Jim Hacker gives Sir Humphrey a new key to Number Ten.
When he enquires who is to be Head of the Home Civil Service, Jim tells it will be Sir Humphrey...or Sir Frank. Jim hasn't decided yet, but ultimately it will be his decision.
Rating (0-10): 10+
Top 5 Quotes