YM Christmas Special - Party Games
First airtime BBC: 17 December 1984
Length: 60 minutes
Cast
Crew
Jim Hacker MP
Paul Eddington
Properties buyer
John Stevens
Sir Humphrey Appleby
Nigel Hawthorne
Assistant floor manager
Jane Redman
Bernard Woolley
Derek Fowlds
Studio lighting
Don Babbage
Sir Arnold Robinson
John Nettleton
Costume designer
Valerie White
Annie Hacker
Diana Hoddinott
Make-up artist
Cheryl Wright
Peter (civil servant)
John Pennington
Cameraman
Max Samett
Civil servant at Christmas party
Rex Robinson
Senior Cameraman
Colin Reid
Ludovic Kennedy
Ludovic Kennedy
Film Editor
John Dunstan
Jeffrey
James Grout
Video tape editor
Chris Wadsworth
Eric
Peter Jeffrey
Vision mixer
Angela Beveridge
Duncan
Philip Stone
Sound recordist
Stuart Moser
Maurice
André Maranne
Studio sound
Alan Machin
Policeman driving
Anthony Pedley
Music
Ronnie Hazlehurst
Policeman in passenger seat
David Warwick
Graphic designer
Graham McCallum
Civil servant at Christmas party
Laura Calland
Title sequence
Gerald Scarfe
Reporter
Martyn Read
Production assistant
Susanne Pinto
Reporter
Roger Davidson
Production manager
Brian Jones
Reporter
Roger Ostime (?)
Designer
Rochelle Selwyn
Reporter
Bernard Losh (?)
Producer
Peter Whitmore
Civil servant
David Howey (?)
Writers
Antony Jay & Jonathan Lynn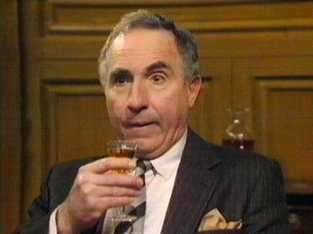 Plot: Jim Hacker tells Bernard that he is currently up to his neck in the Euro sausage. Implementing European regulations would mean that the British sausage would have to be renamed to the Emulsified High-Fat Offal Tube. Jim is not pleased about this. Jim Hacker asks about his next meeting with Humphrey, but Bernard tells him this has been canceled because Sir Humphrey had to meet the Cabinet Secretary.
Sir Humphrey visits the Cabinet Secretary Sir Arnold at his office. Sir Arnold informs Sir Humphrey that he is going to retire early and that he is assessing who he should recommend as the next Cabinet Secretary. Sir Humphrey asks him what he will be doing after he is retired, as he can continue to be of service to the nation. Together they put together a long list of chairmanships that Sir Arnold is interested in. Sir Arnold further wants guarantees that certain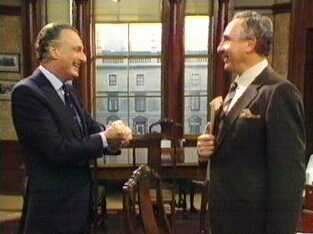 information remains secret after his successor has taken over the job. Sir Humphrey is more than happy to promise this. Now Sir Arnold has decided to recommend to the PM Sir Humphrey as the next Cabinet Secretary.
When Sir Humphrey tells Jim Hacker about his new appointment in very vague terms, Jim first thinks Humphrey is about to die and he gets very emotional. As soon as he realises that Sir Humphrey is becoming Cabinet Secretary, he starts to compliment him on his achievements and their marvelous teamwork over the past years.
At the Christmas drinks party at the DAA Jim Hacker gets awfully drunk as they bid goodbye to Sir Humphrey. Sir Humphrey thanks everyone for their work at the DAA and reminds everyone of the Home Secretary's campaign "Don't drink and drive at Christmas". Jim Hacker is being picked up
for drunken driving however that very same evening, but gets away with it because he can show the Police his silver badge.
The Home Secretary was not as fortunate as Jim, as he was also picked up for drunken driving after causing an accident with a lorry loaded with nuclear waste. This causes the resignation of the Home Secretary.
Then suddenly the Prime Minister announces he is going to retire in the new year to give his successor a good run-up to the next election. There are two candidates for his succession: Eric - the Chancellor of the Exchequer - and Duncan - the Foreign Secretary. Jim Hacker does not know which candidate he can best support, because if he makes the wrong choice he is out. Both candidates talk to Jim Hacker (he is also Chairman of the Party) and make vague promises that Jim could become Minister at a prestigious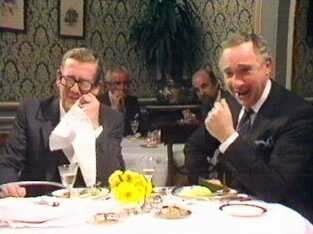 department. Jim tells both that he will support their candidature.
Sir Humphrey and Sir Arnold have dinner together to discuss who should become the next Prime Minister. Sir Humphrey thinks that both candidates have silly notions about running the country themselves and will likely cause a split in the party. Sir Arnold thinks the party should look for another candidate that is more flexible, has no firm opinion about anything and who can be manipulated. They look at each other and burst out into laughter as they realise the perfect choice....Jim Hacker. Sir Arnold advises Humphrey to check out the MI5 files of the two current candidates. When Bernard Woolley joins, Sir Humphrey tells Bernard about the plan and demands that Bernard makes sure Jim Hacker does nothing controversial over the next few weeks.

At the DAA Bernard suggests to Jim that instead of supporting Eric or Duncan, he can also go for the Prime Minister job. This makes Jim Hacker think.
Sir Humphrey has a meeting with the Chief Whip and he tells him about security question marks regarding both current candidates. He has also invited Jim Hacker to have a look at the MI5 files on the candidates. These files reveal that Eric has not been faithful to his wife and Duncan has made a number of dubious financial transactions. They all agree that both candidates should not become Prime Minister. Then Sir Humphrey asks whether Jim himself is interested in becoming Prime Minister. The Chief Whip is in favour and emphasizes that Jim Hacker should not make his candidature public yet. Jim Hacker first has to make sure the other candidates pull out, using his knowledge about the security question marks.

Jim Hacker has talks with both Eric and Duncan about their candidature. He convinces them that they should pull out and support a new candidate who is able to protect them. They both realise the new candidate is Jim, although he denies he has any ambitions to become Prime Minister.
Sir Humphrey has arranged a meeting with Jim Hacker and Maurice, the European Commissioner dealing with the Euro sausage. Sir Humphrey tells Maurice that Jim is planning to block any further European harmonization. Certainly now that the EEC wants to ban the British sausage. Maurice gets the hint and they agree that the British sausage can be called the British Sausage, and not the Emulsified High-Fat Offal Tube.
At the DAA however, Jim Hacker informs reporters about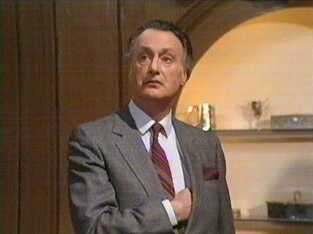 the plans of the EEC to rename the British sausage, even though the issue has been solved. In a speech broadcasted by the BBC and ITN Jim Hacker speaks out against the EEC regulation to ban the British sausage. He firmly stands up for the British sausage and condemns any intervention from the EEC on this part. In an interview with Ludovic Kennedy he repeats this. When Ludovic asks him about the timing of the speech (during the party leadership election), Jim Hacker states that he has no ambitions to become Prime Minister although if he is asked by party members he will reluctantly accept.
As Jim can announce his success in solving the British sausage problem, his candidature is made public. At Sir Humphrey's office he awaits the result of the party vote. When it finally gets in Jim wants to know whether he has become PM. Sir Humphrey can say: "Yes, Prime Minister".
Rating (1-10): 9
Top 10 Quotes: