YM 2.4 - The Greasy Pole
First airtime BBC: 16 March 1981
Length: 30 minutes
Cast
Crew
Jim Hacker MP
Paul Eddington
Studio lighting
Derek Slee
Sir Humphrey Appleby
Nigel Hawthorne
Costume designer
Jackie Southern
Bernard Woolley
Derek Fowlds
Make-up artist
Cheryl Wright
BBC News reader
Robert Dougall
Cameraman
Reg Pope
BBC reporter
Lindy Alexander (?)
Film Editor
Alastair Mackay
Joan Littler
Brenda Blethyn
Video tape editor
Sam Upton
Sir Wally McFarlane
Freddie Earlle
Vision mixer
Joan Duncan
Professor Henderson
Jerome Willis
Film Sound
Ron Blight
Lord Crichton
Geoffrey Toone
Studio sound
Alan Machin
Woman protester
Sheila Fay
Music
Ronnie Hazlehurst
Mrs. Crichton
Maureen Stevens
Title sequence
Gerald Scarfe
Production manager
Brian Jones
Design
Dacre Punt
Producer
Peter Whitmore
Writers
Antony Jay & Jonathan Lynn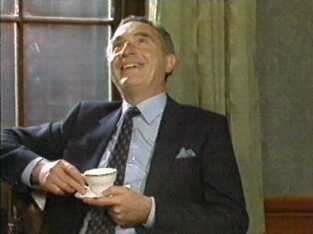 Plot: Sir Wally McFarlane, chairman of the government-owned British Chemical Corporation (BCC), is visiting Sir Humphrey. They discuss how to make sure that Jim Hacker will approve the production of propanol at the BCC's Merseyside plant. Propanol contains metadioxin, which has a bad reputation as dioxin causing a chemical disaster at Seveso, Italy in 1976. Sir Humphrey feels he might be able to convince the Minister himself, without the "tactful" approach of Sir Wally.
When Sir Humphrey brings the news about this new BCC contract to Jim Hacker, the Minister is delighted about the job creation, export orders and the possibility of increasing his popularity. He does however want to make sure that metadioxin is safe. Sir Humphrey assures him that it has been approved by the FDA in Washington, and that the DAA committee chaired by Professor Henderson will issue a safety report shortly.
Then Joan Littler, MP for Liverpool Southwest and the PM's Parliamentary Private Secretary, arrives to discuss this metadioxin contract. The BCC plant is in her (marginal) constituency, and she is very worried. During their discussion it turns out that nobody at the table really knows how safe or unsafe metadioxin is. Jim Hacker promises that he will not allow the chemical to be produced if the Henderson-committee casts any doubts.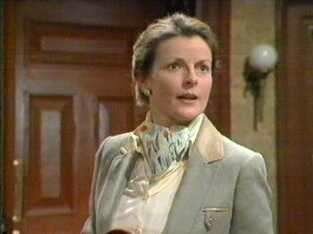 Joan Littler however is not satisfied with this promise and leaves the meeting.
Jim Hacker now is worried that the Henderson-committee will produce a wait-and-see report. Sir Humphrey advises that in that case to publish the FDA report and discredit the Henderson report, using the well established government procedure for not publishing reports.
In the evening, the BBC news reports on the protest that has arisen regarding the propanol contract. Jim Hacker receives a phone call from Number Ten telling him to block the approval. He decides not to cross the PM on this, a decision Sir Humphrey is not very pleased with.
Sir Humphrey leaks the draft version of the Henderson report, which is positive about the safety of metadioxin.
The next day Sir Wally visits Jim Hacker and he is very assured that nothing can stop approval now the Henderson report is positive. Jim Hacker however does not want to approve it yet. This infuriates Sir Wally and he threatens to resign if this contract is blocked. Jim Hacker now feels that he is in such a position where regardless of the decision he makes, he will be hurt. He then thinks of visiting his old friend Lord Crichton, Provost at the college of Professor Henderson's.
While visiting Lord Crichton's tea-party Jim Hacker "coincidentally" bumps into Professor
Henderson. Jim Hacker explains to Professor Henderson that his report will make him immortal, and he points out that if anything would go wrong in the future the press would crucify Professor Henderson. The Professor does not know what to do, but Lord Crichton helps him out to rewrite his conclusion in such a way that there is still doubt about the safety of metadioxin.
As soon as the Henderson report is published, Jim Hacker announces he will not approve the propanol contract. This decision makes him very popular with the public, and he views it as his best political decision so far. Sir Humphrey however thinks of it as the worst governmental decision ever witnessed.
Due to a slip of the tongue by Jim Hacker, Sir Humphrey finally begins to suspect that Jim Hacker had something to do with the rewriting of the conclusion of the Henderson report. The decision however stands.
Rating (0-10): 9
Top 5 Quotes:
YM 2.5 - The Devil You Know
First airtime BBC: 23 March 1981
Length: 30 minutes
Cast
Crew
Jim Hacker MP
Paul Eddington
Technical manager
Paul Mason
Sir Humphrey Appleby
Nigel Hawthorne
Studio lighting
Derek Slee
Bernard Woolley
Derek Fowlds
Costume designer
Jackie Southern
Sir Arnold Robinson
John Nettleton
Make-up artist
Cheryl Wright
Annie Hacker
Diana Hoddinott
Cameraman
Mike Harrison
George (Jim's driver)
Arthur Cox
Video tape editor
Steve Murray
Vision mixer
Joan Duncan
Studio sound
Alan Machin
Music
Ronnie Hazlehurst
Title sequence
Gerald Scarfe
Production manager
Brian Jones
Design
Dacre Punt
Producer
Peter Whitmore
Writers
Antony Jay & Jonathan Lynn
Plot: Jim Hacker is quite frustrated with a letter he received from the EEC in Brussels. While he was on the verge of announcing a big investment into British word processing equipment centrally bought by the DAA for other departments, Brussels asks him to conform to one standard to be agreed upon at an upcoming conference in Brussels.
Although Jim Hacker is pro-Europe, he is definitely anti-Brussels in terms of bureaucracy. He thinks Sir Humphrey is in fact anti-Europe but pro-Brussels. Sir Humphrey points out however he is blaming the wrong people for receiving this letter. As it turns out, Basil Corbett (Minister for Trade and Industry, and feared by Jim Hacker as well as Sir Humphrey) warned Brussels about Hacker's investment plans.
The reason why, soon becomes clear: there is a rumour of a Cabinet reshuffle. Now Jim Hacker is terribly worried what will happen to him. He is not sure whether he has done all right as a Minister, although everyone says he has done all right.

Later on that day Sir Humphrey meets Sir Arnold, the Cabinet Secretary. Sir Arnold informs that the EEC wants Jim Hacker to be the next British Commissioner. Furthermore there has also been talk of Jim's possible successor: Basil Corbett. Sir Humphrey is very unhappy with the idea of getting Basil Corbett as Minister.
At home, Jim receives a phone call whether he would be available as an EEC Commissioner. He does not know what to make of this: whether the PM offers him a face-saving exit or it is purely a coincidence.
The next day Roy (Jim Hacker's driver) has some news about the reshuffle. He already knows that the Employment Secretary is going to be kicked upstairs. But the position of Jim Hacker is still a mystery. Even Bernard Woolley knows more about the reshuffle than Jim Hacker, although what will happen to Jim Hacker is unclear to him too.
Sir Humphrey has lunch with Sir Arnold, talking about the reshuffle. Sir Arnold points out that the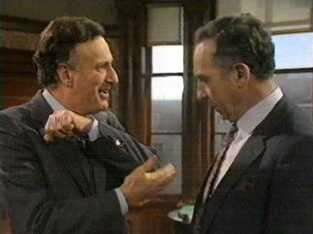 only way he can keep Basil Corbett away from the DAA is by creating a great success for Jim Hacker in the next few days. Then Sir Arnold can move Basil Corbett to the Department for Employment.
Sir Humphrey tells Jim Hacker about the meeting with Sir Arnold (omitting the part about Basil Corbett as Hacker's successor). Jim Hacker sees no chance to have a great success, so he decides to take the job in Brussels.
Then Sir Humphrey jumps up and advises Jim Hacker to ignore the EEC request and go ahead with the investment plans in British word processing equipment. Jim Hacker is enthusiastic; this will be a vote-winner and it will prove that he has elbows (meaning he is tough). He decides to follow this advise.
Jim Hacker inquires who would have been his successor at the DAA. Accidentally Bernard Woolley tells him it would have been Basil Corbett, and Sir Humphrey can only confirm.
Rating (0-10): 8½
Top 5 Quotes:
YM 2.6 - The Quality of Life
First airtime BBC: 30 March 1981
Length: 30 minutes
Cast
Crew
Jim Hacker MP
Paul Eddington
Properties buyer
Bob Sutton
Sir Humphrey Appleby
Nigel Hawthorne
Assistant floor manager
Vivien Rosenz
Bernard Woolley
Derek Fowlds
Studio lighting
Derek Slee
Bill Pritchard
Antony Carrick
Costume designer
Jackie Southern
Sir Desmond Glazebrook
Richard Vernon
Make-up artist
Cheryl Wright
Peter (civil servant)
John Pennington
Cameraman
John Baker
Sue Lawley
as herself
Film Editor
Alastair Mackay
Sir Frank Gordon
Peter Cellier
Video tape editor
Steve Murray
Mrs. Phillips
Zulema Dene
Vision mixer
Joan Duncan
Crawford
Rex Robinson
Film Sound
Bob Roberts
BBC producer
Roger Martin
Studio sound
Alan Machin
Music
Ronnie Hazlehurst
Title sequence
Gerald Scarfe
Production assistant
Lesley Langan
Production manager
Brian Jones
Design
Dacre Punt
Producer
Peter Whitmore
Writers
Antony Jay & Jonathan Lynn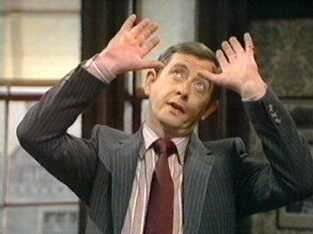 Plot: Sir Desmond Glazebrook wants to see Jim Hacker about his Bank's plan to put six more floors on top of the Bank's headquarters. He has a talk with Sir Humphrey before seeing the Minister, and Sir Humphrey points out that Jim Hacker just made a speech condemning high-rise buildings. Sir Humphrey assures that he will get building permission, but not right today.
Jim Hacker's speech against high-rise buildings went down very well, and Bill Pritchard - the Minister's Press Officer - is showing Jim Hacker the results in the newspapers. Hacker however wants also to get his name in the mass-circulation newspapers (e.g. the Sun, the Daily Mirror, etc.). Bill Pritchard reminds Jim Hacker that all the newspapers will be present at Hacker's visit to a City Farm that afternoon. Hacker is very satisfied with this chance for good publicity.
After Bill Pritchard leaves, Jim Hacker sees Sir Desmond Glazebrook who explains the Bank's expansion plans. Jim Hacker is of course not very taken by this plan (since he just condemned high-rise buildings the night before), and Sir Humphrey helps out the Minister to point out the
downsides of the plan. Furthermore, Sir Humphrey points out that the Bank has a vacant site that would accommodate its expansion plans. The Bank's architect however says that this site is scheduled for Phase III. Jim Hacker concludes the meeting by telling Sir Desmond Glazebrook that he most certainly will not give permission for six more floors.
Then Jim Hacker has to rush to the City Farm. Sir Humphrey makes use of this hectic moment by asking for the Minister's signature for an Administrative Order to utilise unused local authority land. Jim Hacker is so rushed that he signs the Order without really knowing what he is signing. Then finally Jim Hacker goes off to the City Farm.
The visit is going splendidly; lots of reporters are present and Jim Hacker promises that the government will do all to help the City Farm movement to flourish. Even BBC television is present and Jim Hacker and Mrs. Phillips - the Warden of the City Farm - are interviewed. Mrs. Phillips
says that Jim Hacker has assured her that the lease of the City Farm will be renewed. Although Jim Hacker has not made such a concrete promise, he does not correct the statement of Mrs. Phillips. To sum up, the visit is a great success.
The next day, Sir Humphrey has lunch with Sir Frank Gordon, Permanent Secretary to the Treasury. Sir Humphrey tells Sir Frank that he can get hold of a piece of local authority land as new parking space for Inland Revenue Inspectors, because an Administrative Order has just been signed. As Sir Frank inquires what the land is being used for right now, it turns out it is the site of the City Farm that Hacker visited the day before.
Sir Humphrey also meets with Sir Desmond and together they cook up a plan to get building permission for the extra floors on the Bank's headquarters.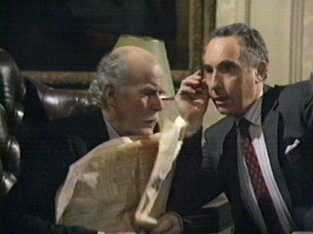 Jim Hacker is up till now unaware of what is going on, and very pleased with the publicity that his City Farm visit has received. Then Bernard Woolley tells him that Mrs. Phillips wants to see him because she has just learned that the Farm is being closed to make room for parking space for Inland Revenue Inspectors. She is furious and promises he will be roasted by all the national press.
After she has left, Sir Desmond Glazebrook enters Hacker's office. He proposes a new building plan: if he would get permission for nine extra floors (instead of six), the Bank could postpone Phase III. This would leave the planned Phase III site vacant for other purposes, such as a City Farm. Jim Hacker jumps at this opportunity to save his image and agrees with nine extra floors for the Bank. Immediately a press release is published to announce this wonderful news...regarding the City Farm.
Rating (0-10): 9½
Top 5 Quotes:
YM 2.7 - A Question of Loyalty
First airtime BBC: 6 April 1981
Length: 30 minutes
Cast
Crew
Jim Hacker MP
Paul Eddington
Studio lighting
Derek Slee
Sir Humphrey Appleby
Nigel Hawthorne
Costume designer
Jackie Southern
Bernard Woolley
Derek Fowlds
Make-up artist
Cheryl Wright
Peter (civil servant)
John Pennington (uncredited)
Video tape editor
Graham Sisson
Betty Oldham
Judy Parfitt
Vision mixer
Joan Duncan
Sir Mark Spencer
Nigel Stock
Studio sound
Alan Machin
Civil Servant
Rosemary Williams
Music
Ronnie Hazlehurst
Committee chairman
Anthony Dawes
Title sequence
Gerald Scarfe
Committee member
John Rolfe
Production manager
Brian Jones
Design
Tony Burrough
Producer
Peter Whitmore
Writers
Antony Jay & Jonathan Lynn
Plot: Jim Hacker has just returned from Washington were he held a speech about the marvelous efficiency of the British Civil Service and its ruthless war on waste. Sir Humphrey was very pleased with this speech because it forces the Minister to defend the department before Parliament, like the Select Committee hearing that is coming up the next day. Sir Humphrey has prepared a brief for the hearing that carefully presents the department's position.
When Jim Hacker is in front of the Select Committee, Betty Oldham - MP for Derbyshire East - confronts him with a number of appalling cases of waste within the DAA. She got these cases from a book by Malcolm Rhodes, who formerly worked as an assistant secretary in the DAA. Jim Hacker does not know how to respond to these allegations and he just says that he will have it looked into. Another Committee member wonders whether Sir Humphrey might not be the appropriate person to answer to these allegations and Jim Hacker fully agrees.
Sir Humphrey is not very pleased by this. As soon as he appears in front of the Select Committee he gives an explanation for every case of government waste. But every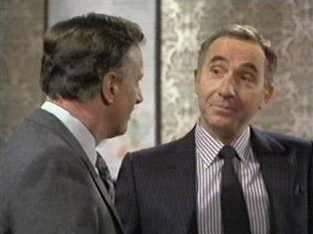 time that Betty Oldham tries to get his views how government policy should be changed, he refers back to Jim Hacker since the Minister is responsible for government policy.
His appearance before the Committee has not solved anything and both Sir Humphrey and Jim Hacker are scheduled to appear before the Committee together a few days later. Sir Humphrey and Jim Hacker agree that they have to cook up a good story together, using one of the five standard excuses.
Then Jim Hacker is invited to Number Ten were he has a meeting with the PM's Special Advisor, Sir Mark Spencer. In this meeting Jim Hacker learns that Betty Oldham got hold of the book by Malcolm Rhodes through Sir Mark Spencer. The PM is trying to achieve cuts in government spending but all Ministers are house-trained by the Civil Service. The PM is therefore not pleased by Jim Hacker's appearance before the Select Committee because he is protecting the Civil Service.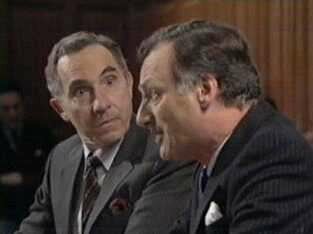 Sir Mark Spencer advises Jim Hacker to be absolutely loyal (to whom is Jim Hacker's decision).
As Sir Humphrey and Jim Hacker together appear before the Select Committee, Sir Humphrey presents the correct official reply (an excuse). Then Jim Hacker drops his support for this excuse and admits that changes are necessary within the department and that he has asked Malcolm Rhodes to head up an independent outside inquiry of the DAA. Sir Humphrey is of course shocked and very angry with the Minister.
Back at the DAA he tells the Minister that the department is up in arms and that the PM will be very angry about Jim Hacker's public admittance of failure. Jim Hacker receives a praising letter from the PM, and then Sir Humphrey realises that this was a conspiracy against the Civil Service.
Rating (0-10): 9
Top 5 Quotes: